With 4 young kids, 1 of them being a very needy baby and another being an extremely busy 2 year old, I often feel like I am spread too thin and I'm not giving each child them amount of focused, one on one attention I want to give them, especially Kaitlyn.
Kaitlyn is my oldest. She's 7 years old, is in 2nd grade, plays indoor and outdoor soccer, takes piano lessons, and loves to learn and play. She is my social butterfly who seems shy when you first meet her, but quickly warms up to people and loves nothing more in the world then play dates...however, I'm learning that she might actually like one on one time with me even more. I can't tell you how much this thrills me! Whenever I suggest that just her and I go somewhere, anywhere, alone, she jumps at the opportunity. This has made me realize I need to cash in on the fact that she wants so badly to be with me and spend time with me at this stage of her life. Despite my hurried and often chaotic schedule and the demands of my other 3 children and husband, it is crucial that she and I continue to have as close a relationship as possible if we are going to remain close through the possibly more challenging years that lie ahead for her. It is crucial that she feel that not only am I there to listen and talk with her, but I WANT to hear everything she has to say. I strongly feel that if she's convinced that I want to hear all that she has to say, hopefully she will continue to tell me anything and everything.
With the needs of young children constantly needing to be met, the endless to do lists, the demands of having a business, it is easy to brush her away and say we'll talk later after I do this or that...but I try very hard to always be available to her...even if it means putting off something that might seem really important, not much is more important then her.
Tonight Kaitlyn and I had a chance to talk, just me and her, while I rocked Kellan to sleep and Mike put the other two kids to bed. I was amazed and in awe of all that Kaitlyn not only is learning at school and church, but how much she is retaining. Tonight she finished a 10 slide power point presentation, by herself, with clip art to match each slide. Seriously? I don't know if I can even use power point myself and I'm 33! While we were talking tonight, I thought to myself, "what are the things I most want Kaitlyn to know and understand about this life?" Although I have thought about this many times before, I realized in that moment that as a parent, I need to be very clear about this before these opportunities present them self. I need to be very clear in what I want my kids to know, how I want to teach them, and most importantly, how I will teach these principles through my actions in our every day life. As Kaitlyn and I discussed everything from what we thought Heaven was like to what kinds of things she's doing during recess and who she's playing with, to what her favorite things to do while at school are to what our plans should be for the summer to what henna tattoos are and how they wash off to how neat it would be to travel the world and help the kids that are poor and don't have anything...I sat there and was in awe at how amazing this girl, my girl is. How lucky I am to be her mom. How lucky I am to know that she and I and the rest of our family will be together forever.
I am linking this post up with one of my favorite bloggers, Rebecca over at
Simple As That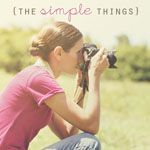 Hope you all had a wonderful weekend! See you tomorrow!
XO,
Lindsay